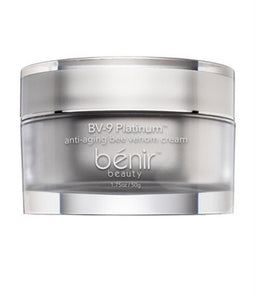 BV-9 Platinum AntiAging Bee Venom Cream / Benir Beauty
Regular price $149.00 Sale
We have replaced this product with VITAE Skin Renewal..find it here
PRODUCT DESCRIPTION
Highly concentrated and full of all the amazing anti-oxidants, anti-agers and skin savers you deserve in your luxury skin care cream. Benirs pure, anti-aging formulation, delivers a powerful collagen stimulating effect which significantly reduces signs of aging, while replacing your day/night & eye cream with one powerful product. Key ingredients such as grade 1 pure Bee Venom, repair and reduce inflammation, Hexapeptide 8 (Argireline) effectively reduces wrinkle causing muscle contractions, and Hyaluronic Acid attracts and locks in moisture, deeply hydrating skin. Essence of Jasmine, with a touch of green tea, lend a deliciously light aroma. Benir uses only injectable grade I bee venom, and the highest quality peptides, to guaranteed a pure and active formulation that delivers optimal results! Luxuriously rich, yet light on the skin, Benir bee venom cream completely absorbs, leaving no residual film. Suitable for all skin types, and won't clog pores. 
KEY BENEFITS
Replaces your day/night & eye cream (all the benefits in one product) Stimulates collagen & cell renewal Lightweight & deeply hydrating. Minimizes and softens lines & wrinkles Reduces depth and size of wrinkles and fine lines Leaves skin velvety soft and refreshed.
What it Does
A clean, anti-aging, peptide based formula, with naturally derived amino acids that work in a non-paralytic way, to help reduce over active neurotransmitters that initiate muscle contractions. Healing compounds repair damage and soften signs of aging for skin that behaves more youthfully. BV-9 Bee Venom Cream is formulated to help reduce the intensity of dynamic wrinkles, to reduce signs of aging, and increase circulation to fibroblasts to create collagen, minimizing lines & wrinkles.
The Science
Anti-Wrinkle Test on Healthy Volunteers over a period of 30 days showed a measurable reduction in the depth and intensity of lines and wrinkles. Over all skin clarity and firmness improved for younger looking skin. By creating a pure formulation without parabens, phthalates, petroleum chemicals, perfumes, and fillers, we allow maximum penetration of active ingredients for absolutely gorgeous skin! Always read your product labels to ensure you are putting only "the good stuff" on your skin….that's what gets results.
no parabens, phthalates, dyes, perfumes, fillers, petrochemicals.
DIRECTIONS
Apply to clean skin morning or evening. Use sparingly and gently massage or tap into area to be treated, focusing on areas of dynamic movement. May be used on entire face, if needed.
*Do not use if you have an allergy to bee stings or bee products. Do not use on broken skin. We recommend an initial skin test patch to ensure compatability.
SOME KEY INGREDIENTS
BV-9 Bee Venom (grade 1, pure, unprocessed, injectable grade bee venom)
Acetyl Hexapeptide-8 (Argireline ®)
Olive Squalane
Hyaluronic Acid
Cu Complex
Alpha Lipoic Acid
SIZE   2 oz / 60 ml