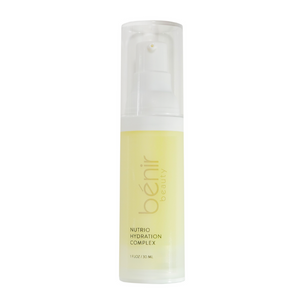 Nutrio Hydration Complex
Regular price $120.00 Sale
Stimulate cell regeneration and build collagen diminishing the appearance of fine lines, wrinkles, and age spots. Nutrio hydration complex contains cylasphere(tm) Retinol, a soft encapsulated retinol molecule that is protected from degradation. These fine biocompatible microspheres penetrate the epidermis and are progressively degraded by skin enzymes allowing for a gradual release of the retinol.
Benefit:
diminishes fine lines and wrinkles
stimulates skin plumping collagen
improves clarity and texture by removing sun damage
richly hydrating
How to use:
Apply morning and/or evening after cleansing.
Some key ingredients: 
Cylasphere Retinol - Advanced biodrug delivery system with increased biocompatibility. Non cytotoxic, nonirritating and hypoallergic.

Cariciline® SB - Natural source of Vitamin A. It improves hydration by 90% 1 hour following application.

Organic Helichrysum Extract - A free radical scavenger inhibits oxidases and ROS formation. It offers anti-microbial and purifying benefits.

Bisabolol - Enhances penetration and efficacy of Retinol. It accelerates healing and is an anti-irritant
Ingredients:
Aqua (Purified Water), Dimethicone/Cyclomethicone, Caprylic/Capric Triglycerides, Glycerin, Retinol, Glycerin (and) Water (and) Helichrysum Stoechas Extract, Cetearyl Alcohol, Cetearyl Glucoside, Water (and) Ficus Carica Fruit Extract (and) Xanthan Gum (Cariciline), Lauryl Lactate, Glyceryl Stearate, Retinyl Palmitate, Phenoxyethanol/Caprylyl Glycol/Sorbic Acid, Bisabolol, Carbomer, Ferula Fetida Extract, Palmitoyl Tripeptide-5, Tocopheryl Acetate, Yeast Extract (Phyto Hyaluronate), Resveratrol, Aloe Barbadensis Leaf Extract, Chamomila Recutita Flower Extract, Calendula Officinalis Flower Extract, Lavandula Angustifolia Extract, Daucus Carota Root Extract, Camellia Sinensis Leaf Extract, Simmondsia Chinensis Oil, Glycine Soja Sterols.
Size: 1.7oz / 50ml